Stainless steel fast heat immersion screw single end cartridge heater
Stainless steel fast heat immersion screw single end cartridge heater
Product Description

Single head heating tube cartridge heaters are used largely used to heat liquid, solid or gas, the application in plastic industry is very wide, such as hot runner system,smallmould heating ,plastic package ,Medical equipment plastic ,plastic injection molding machine nozzle heating, Package and cartridge is also used in the cigarette industry, footwear industry, thermoforming machinery.
Specification Of Cartridge Heater: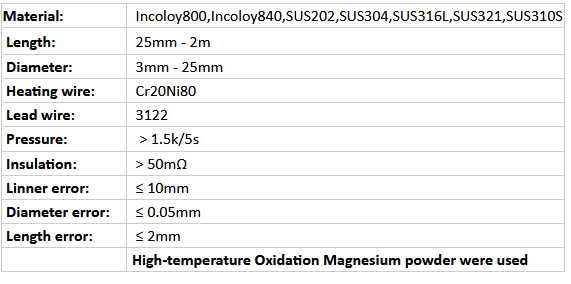 Advantage:

1. Long lifespan, rational internal structure design. Using imported high-purity magnesium oxide mandrel and magnesium power for filling, high thermal conductivity
2. Using Centerless Machine to standardize Diameter, high thermal efficiency, fast heat dissipation.
3. Advanced technology and equipment make the quality good and stable.
4. All items have passed CE and ROHS certification.